Transexual Bareback

Horse-hung shemale Danni Daniels makes her debut at SX Video to make Gabriel D'Alessandro her bitch minion and teach his ass a lesson he'll soon never forget. The scene opens with Danni discovering Gabe playing with his cock without permission, which doesn't go over too well with her. As punishment she bonds his hands and begins pulling his hair and spitting in his face, to give him a taste of things to come. Danni then decides to feed her submissive bottom and whips out her giant thick cock and stuffs his mouth till she can feel the back of his soft throat with her plump dick head. After cramming her monster cock into one hole, Danni bends Gabe over the bed and thrusts her massive fuck-tool into his ass, and begins tearing up the next, making Gabe cry out in pain along the way.
After ordering Gabe to back up into her cock, Danni throws her new anal whore onto the floor and continues plowing away at his hole with her tremendous girth and then without pulling out, drops to the floor on her knees and pounds his hole ass-to-ass. Danni then pulls him by the hair off the floor and opens his mouth wide open to suck his ass juice off of her cock and then slaps a gag over his mouth to muffle the screams as she gives his asshole an even harder thrashing. She then pulls out of Gabe's tight ass and forces the cock slave onto the ground and then busts a load of creamy white cum all over his mouth and face. So turned on by the abuse, Gabe lies on his back and with Danni's permission, erupts his own load of man juice all over himself.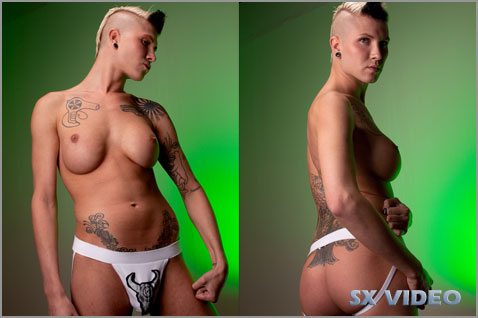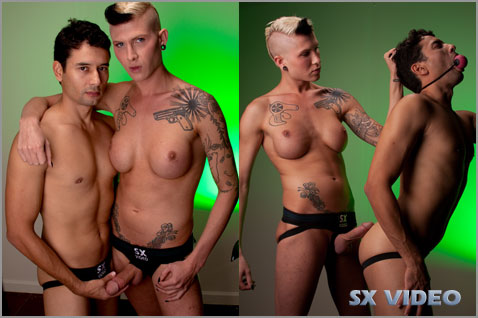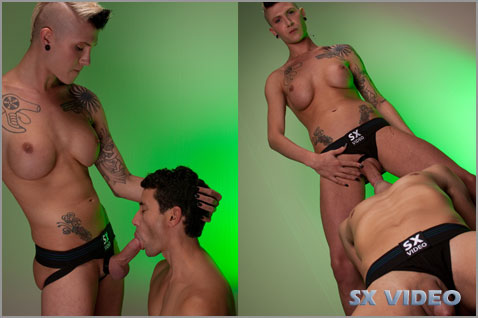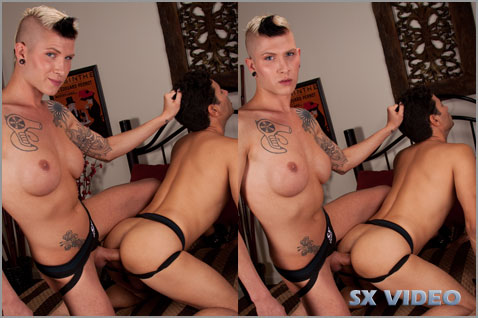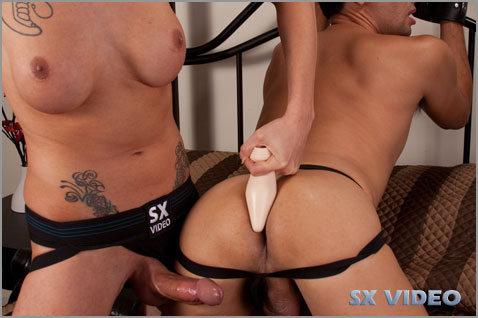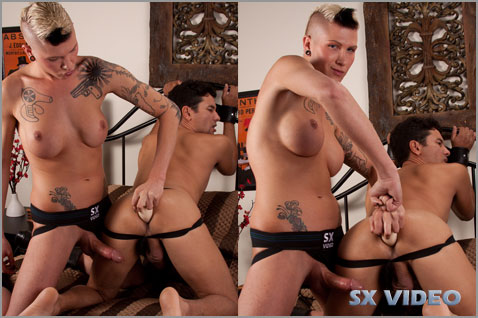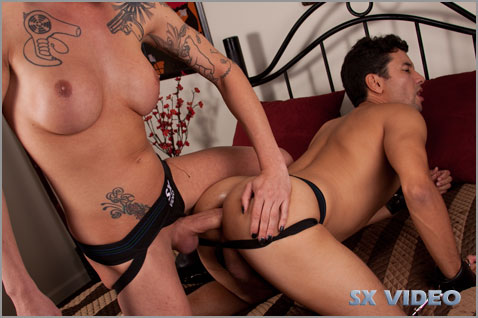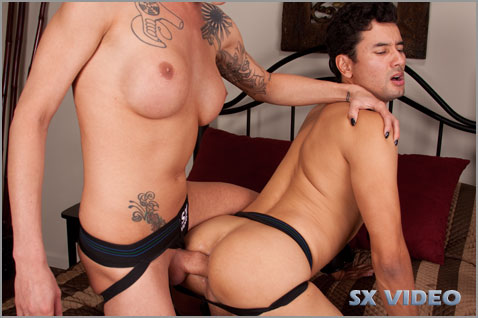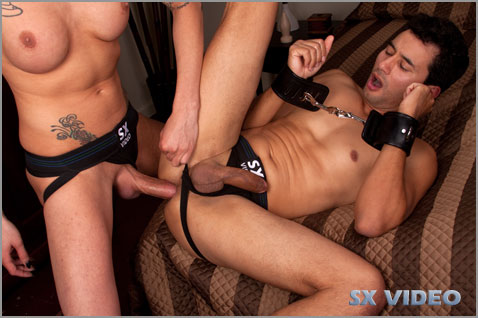 Kinky porn stud Gabriel D'Alessando brings sexy shemale Ariel Everitts back to the SX Studios for some hot flip-flop fucking and dirty fun. The scene begins with Gabriel leading Ariel to a chair where she suggests getting the Latin fuck-boy's loins revved up with a hot lap-dance. Ariel spreads his legs wide apart and starts gyrating her perfect ass against Gabe's swollen uncut cock and then whips it out of his pants and into her hungry mouth, deep-throating it all the way down. Ariel then stands up and surprises Gabe with a big cock of her own, which she pulls out and strokes into Gabe's mouth. The two switch off fucking each other's faces until Ariel decides it's time for Gabe to stuff her other hole and proceeds to get on all fours on the couch while Gabe thrusts his huge, lubed-up dick in her ass raw and hard.
Moaning loudly with her perfectly huge tits bouncing with every thrust, Gabe continues to fuck Ariel's hole harder and harder, unit he pulls out to indulge Ariel's mouth to a taste of her own ass before throwing her onto her back and plunging his flesh-sword into her deep insides again. After working herself up riding Gabe's fat cock like a stallion, Ariel bends Gabe over on the couch and sticks her rock hard cock in Gabe's tight asshole and starts fucking away, stretching out his tight hole. Ariel then rolls Gabe onto his back and has him hold his legs high in the air as she continues pounding his ass until she is ready for Gabe's dick inside of her once again. Gabe starts stuffing his girthy brown cock in Ariel's hole with even more momentum than before, until he pulls out and explodes a huge load onto Ariel's ass, fucking his milky cum into her asshole. Gabe, who is now craving some hot jizz in his own ass, lies on his side as Ariel fucks him yet again and waits until she pulls out and spews a fat load onto his hole, pumping it up inside his hungry ass.