Barebacking With Carlos Morales Vol. 2 (Gang Fucked)
Barebacking With Carlos Morales Vol. 2 (Gang Fucked)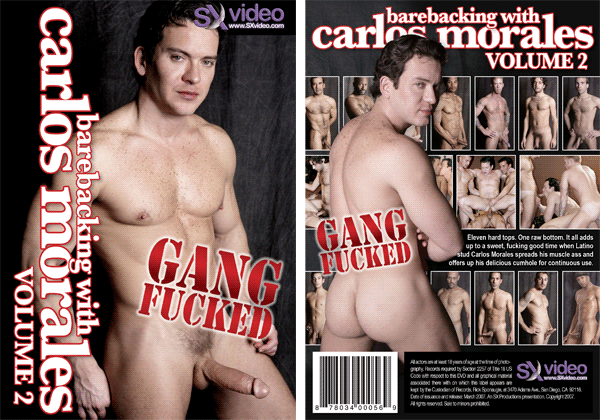 At the start, Carlos is found relaxing in a lodge somewhere in the mountains. His quiet time ends when Chris Neal and Justin, all woodsy in their Levis and flannels, stop by. Soon Carlos is moaning as he rides Chris' 9-inch torpedo and slurps Justin's pretty piece. The two tops switch places and use Carlos as their sperm bank, each making sizable deposits.



When buffed-out Ridge Jones comes in from a run, it is an extended make out session. Ridge, usually a bottom man in other vids, shows he can give cock with a steady rhythm. He bends Morales over an ottoman and the camera gets in close for lots of hole filling.



Young, sexy and hairy Alessandro Teradyne is the next guy to visit the lodge. Carlos welcomes him with an attentive blow job. But the real fun starts when Alessandro plants his fat one where many men have gone before.



Carlos, off somewhere for a few minutes, returns to find Gut Banga, Doc Holliday, Mike Shawn and Ty Marks - four homies with nice, big chocolate bars - enjoying one another on the couch with some oral play. His eyes light up and his cock goes solid steel. He rides each man's whopping wang. The brothers put Carlos on the floor and take turns fucking the squirming white dude who takes total control of their cocks.



Before he can get a breather, Angel Rocha, Armando Cortez and Erik rush in and the fucking continues. How much more can Carlos take? Apparently a lot. The three pump both his holes relentlessly.